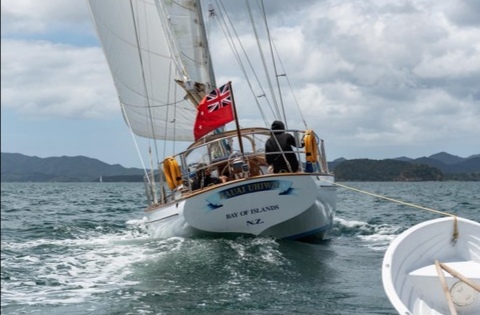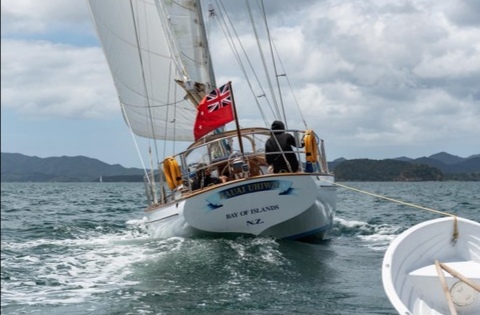 Kauai Uhiwai has had an amazing and unique build history. The hull was constructed over a male mold in 1974 and meticulously constructed by Colin Nisbet until he passed away in 2016 when the build was completed by his friends and family for the boat's launch in 2017.
This boat was built by someone with all the time in the world to make sure every detail is perfect. Many of the parts of this boat have been custom-built by hand. The level of craftsmanship is exquisite and shows the mark of a true sailor. It is very rare to find a yacht of this calibre.
This is a classic yacht without the drama of a timber hull. She is a cutter-rigged sloop with fully battened, loose-footed mainsail stowed neatly in a contemporary stack pack and lazy jacks. Modern mast and sails were made in 2017. She carries the tradition of a beautiful laminated kauri bowsprit and gold leaf in-laid carving.
This classic offers practicality in a modern cockpit layout with all the important lines leading back to the cockpit. The shallow stairway is safe for moving around the boat when underway.
You have to see this boat to understand the stunning craftsmanship that has gone into putting this yacht together.
This boat has been beautifully made, with some main features including: -Kauri construction -Hanging knees -Cast bronze portholes -Bronze arco winches -Teak and Kauri cabin sole -Bronze rigging screws
This is not to say it doesn't have modern features too- LED lighting, Hydraulic steering, 2017 Raymarine instrumentation, hot water and refrigeration mean this boat doesn't skimp on more modern comforts. The engine is in fantastic condition with just 330 hours.
The Bluewater 41 design has amazing seakeeping ability and a huge amount of power for light wind sailing. Arguably it would be one of the most comfortable boats sailing upwind in a seaway.
Listing ID

:

164756

Type

:

used
We are grateful to be supported by the following businesses and organisations. Please support them in return when you can.